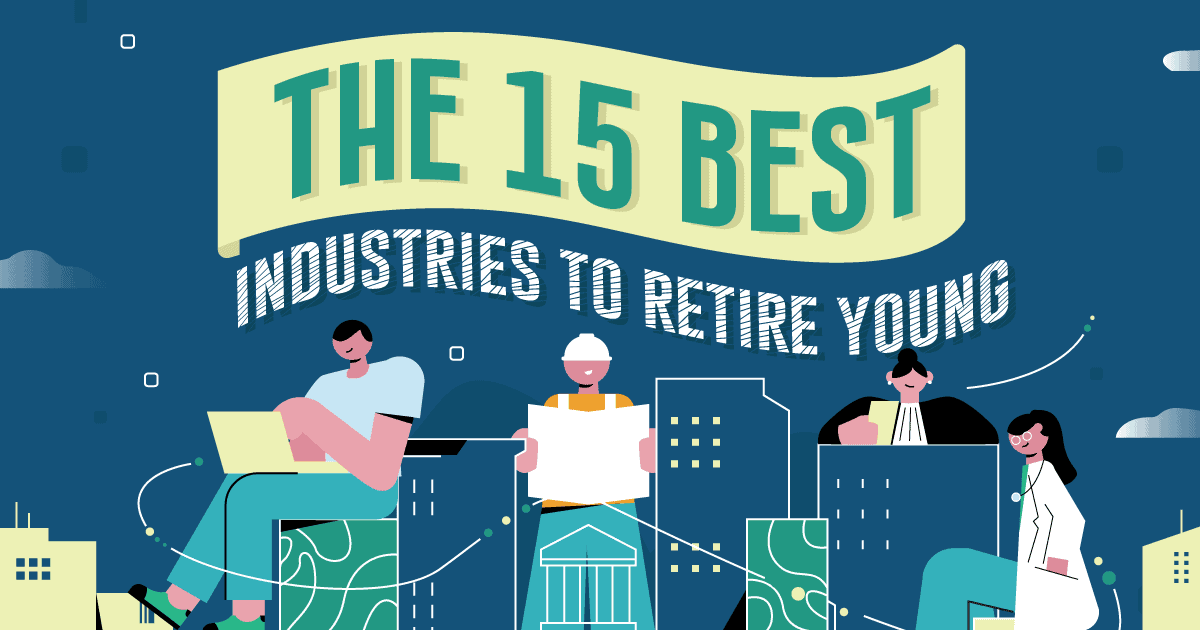 Waiting until 65 years old to reach state pension age might not be something all of us want to do. With work taking up most of our time as an adult, many of us look hopefully at retirement as a time where life slows down as there is more time to enjoy the finer things in life and not worry about work. 
To get a better understanding of the professions that are best for early retirement, the experts at Our Life Plan have conducted a study to reveal which industries have the highest chances of early retirement. By analysing various metrics such as how much the pension pot grows over the years for 40 different careers and how much can be saved for retirement we were able to determine which professions are most likely to be able to retire early.
In these industries you can retire as early as 46 years young
With some jobs progressing faster than others, it's easier to grow your pension pot quickly when you choose the right industry to work in. 
Commercial Manager, Taxation Expert, Construction Manager and Product Manager came out on top with the possibility of retiring as early as 46 years young. This is closely followed by professionals working in Marketing, Project Management or IT Management who can retire at 47. All these jobs have the advantage of requiring no formal qualifications so you could get into them straight after school and start saving for your pension as early as 18 years young. 
Product Managers retire with savings of £270,534 at 46 years, while Commercial Managers retire with £263,164 and Taxation Experts with £260,250.
Travel agents came in last for our ranking, only being able to go into early retirement at the age of 56 with savings of £140,040 due to their low starting salary of £18,126 and a slow average salary progression at each stage of your career of only £523. 
Other careers that ranked on the lower end were Librarian and Finance Officer with a retirement age of 54 with savings of £167,658 and £166,752 respectively. Slow salary progression at each stage of your career of £1,204 and £921, as well as rather low starting salaries of £20,000 and £21,080,  are to blame again for the long wait for retirement.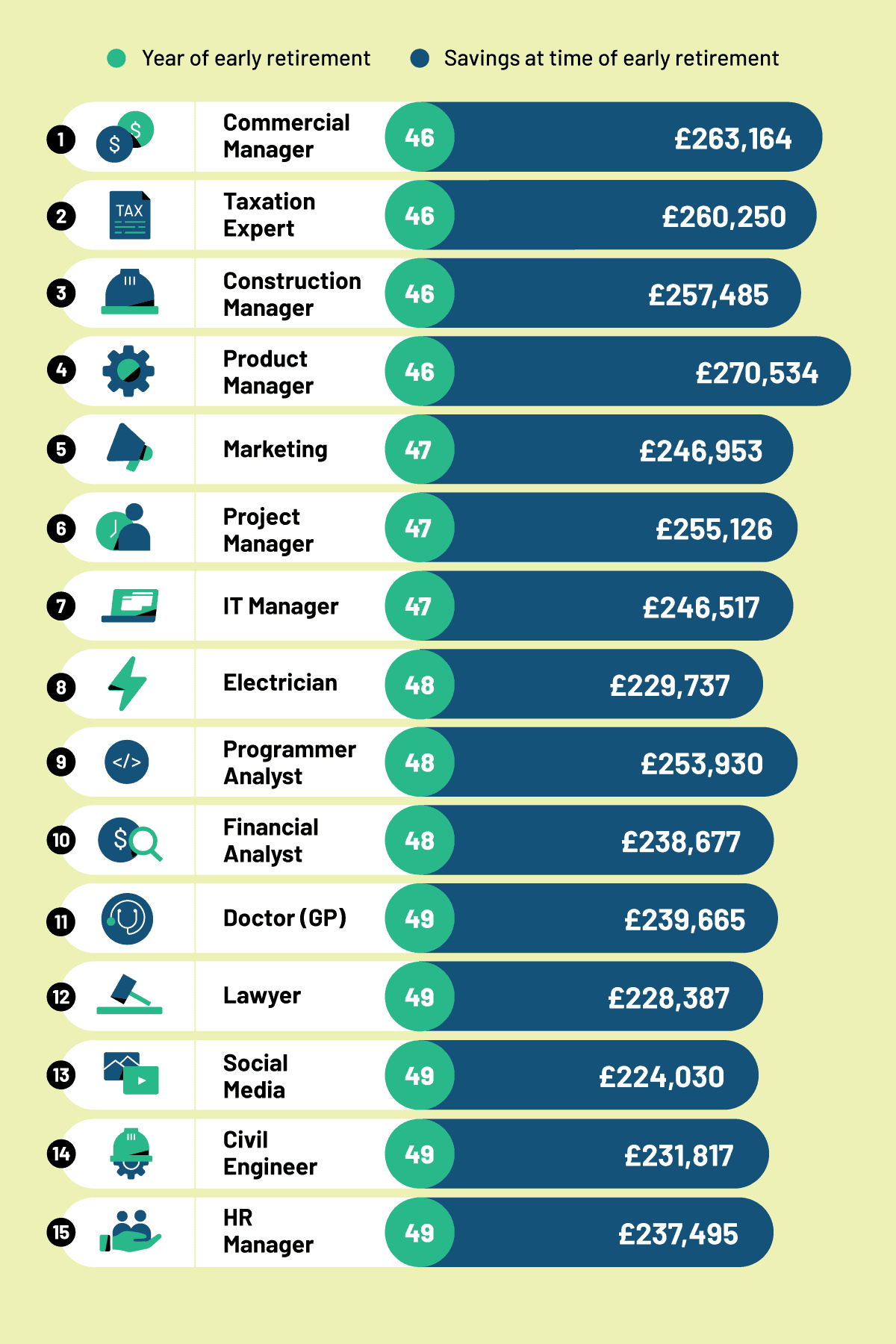 Careers with the longest time to qualify
Some professions have no requirements in terms of formal qualifications, meaning you can start working immediately after school, whereas others require you to go to law or medicine school to be able to practise safely. 
The careers we've looked into that require the longest time to qualify and enter the workforce so you can start saving are: Doctors with 9 years to qualify, Psychologists with 8 years, Architects with 7 and Lawyers and Solicitors with 6 years. Despite a long qualifying time, these careers start with a higher starting salary than most careers so there is still room to save for early retirement.
Because of their high salary of £69,560 after 10 years of service Doctors still manage to retire quite early at 49 years. Psychologists and Architects are able to retire at 51 years old, Lawyers at 49 and Solicitors at 50 years old. 
Marketing  revealed as the industry with the highest average salary increases
If you want to know in which industries you can progress the most in terms of salaries look no further than Marketing. With an average increase of £13,475 at each stage of your career you are bound to make more money quickly in this creative career. Interestingly, Marketing is on the lower end when it comes to the starting salary with £18,561 – but because of the steep increases you could end up with a salary of £72,460 after 20 years working.
Other good options include becoming a Doctor with an average increase of £11,759 at each stage of your career, which makes for the highest salaries amongst all careers towards the end of your career after 20 years with £88,000, or a Commercial Manager with an average salary increase of £7,806 at each stage of your career.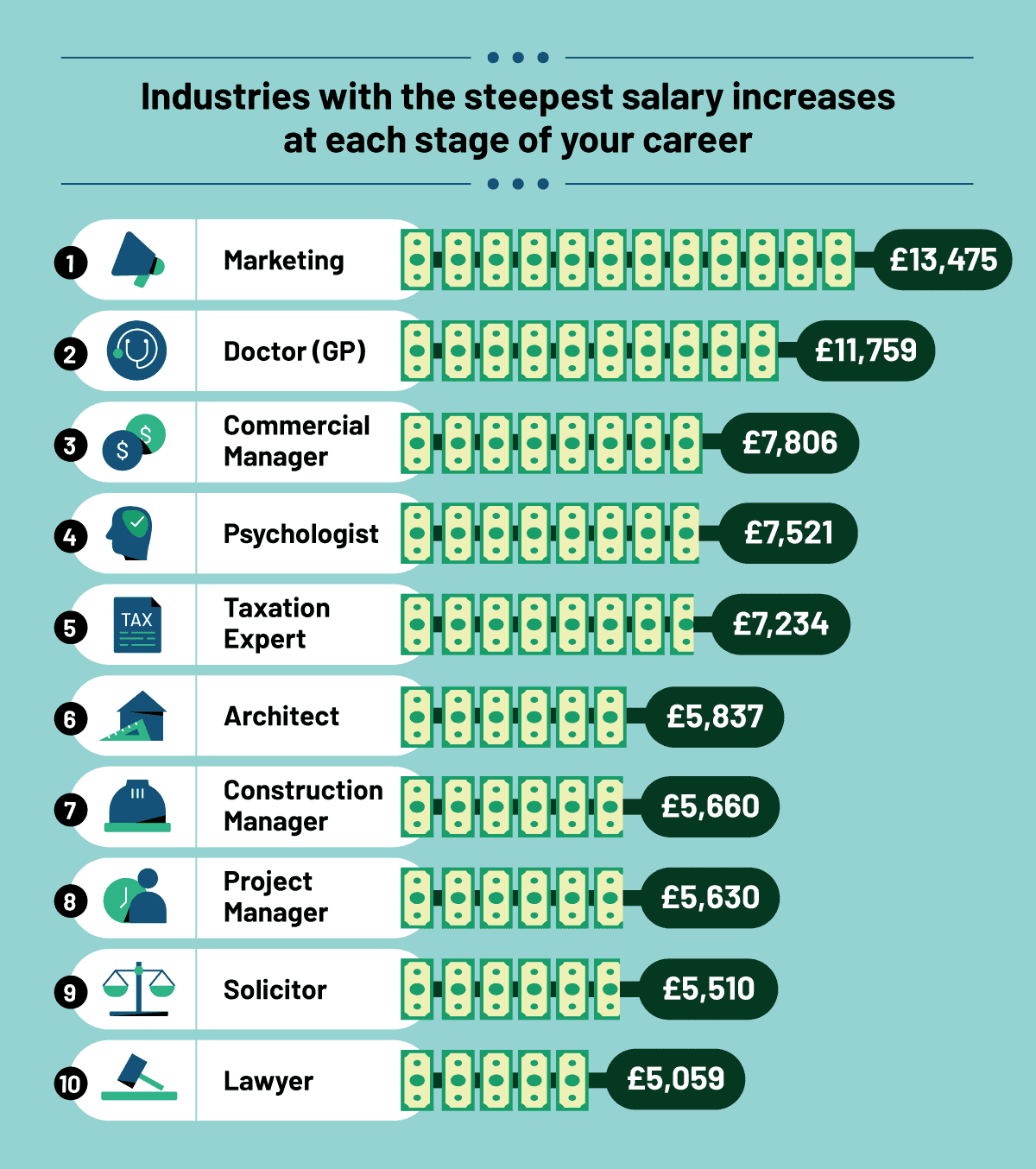 Lawyers receive the highest starting salaries
If you are looking for a high salary to start out with look no further than becoming a lawyer or doctor. After 6 years of training to qualify lawyers receive a starting salary of £44,764. It takes doctors 9 years to qualify to earn £40,963 in their first year of service. 
If you don't want to wait that long to get trained, a career as Product Manager or IT Manager might be for you – they both need no formal qualifications and the starting salary is at £30,839 and £30,468 respectively.
How to save for your pension
All this information might make some of us wonder – How do I save for my pension?
To make the understanding a bit easier we've created an easy to understand infographic on how to save for your pension: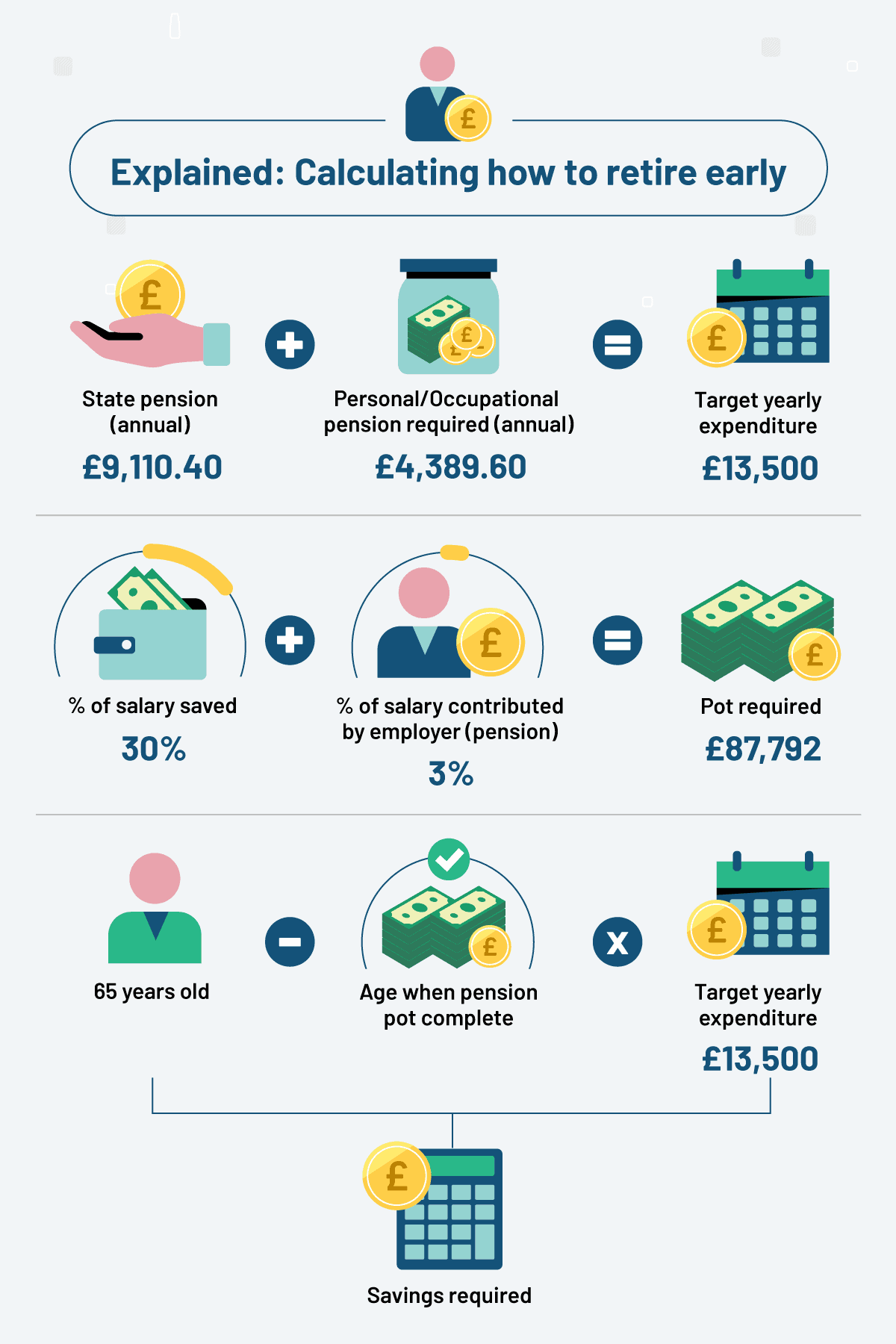 Outlook
While some careers make it more likely to retire earlier than others, it may not be the only deciding factor when choosing a career.
If a career as a doctor for example is at one's heart, a retirement age of 51 years is still quite young compared to the usual state pension age of 65 years.
From commercial manager to taxation expert or construction manager there are quite a few careers to choose from if the overall goal is to retire early and enjoy life away from work. 
Sources: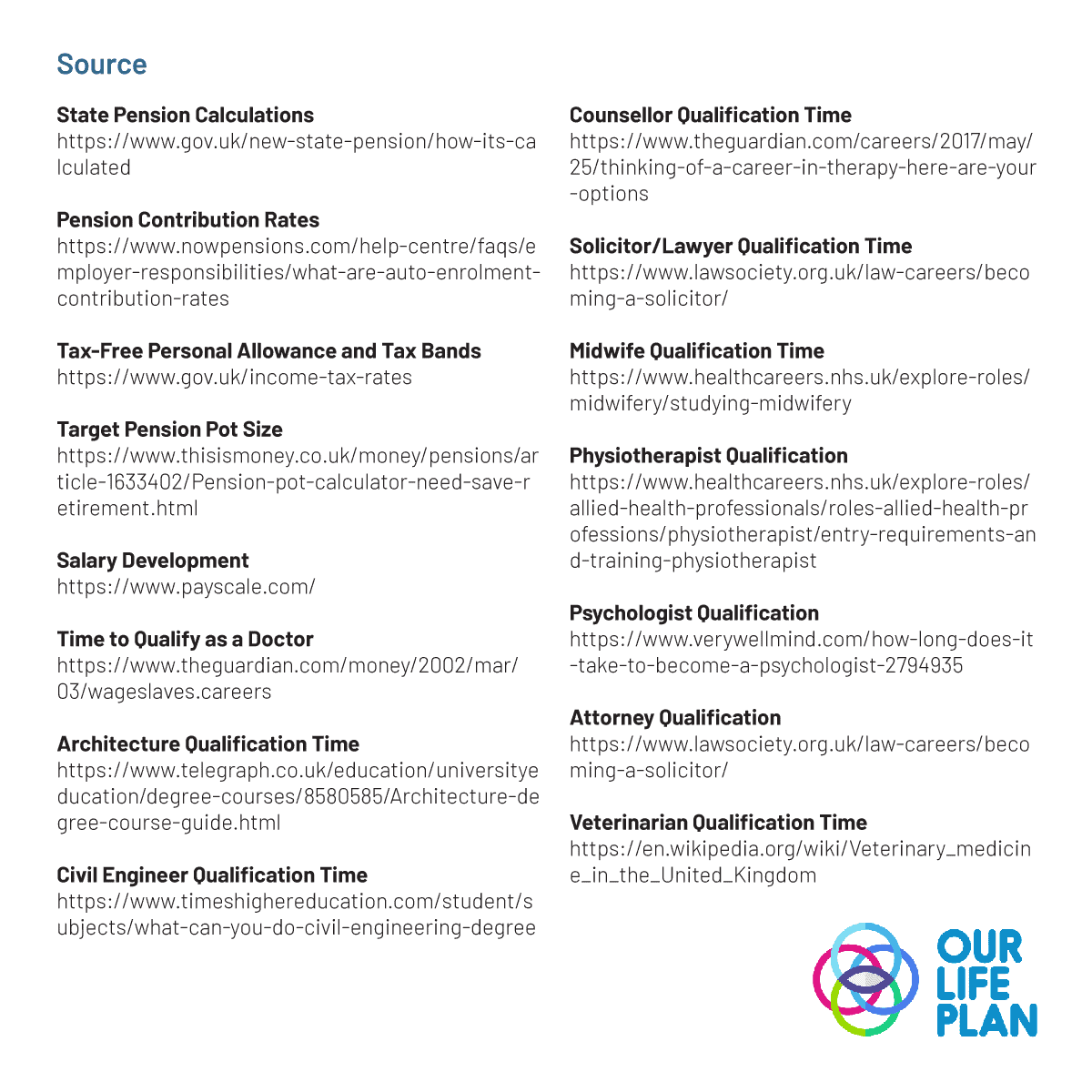 | Profession | Years Qualifying | 0-1 Years | 1-4 Years | 5-9 Years | 10-19 Years | 20+ Years | Year of Early Retirement | Savings At Time of Early Retirement | Average Salary Increase |
| --- | --- | --- | --- | --- | --- | --- | --- | --- | --- |
| Travel Agent | 0 | £ 18,126.00 | £ 19,564.00 | £ 19,692.00 | £ 20,215.00 | £ 20,215.00 | 56 | £ 140,040.00 | £ 522.25 |
| Librarian | 0 | £ 20,000.00 | £ 20,485.00 | £ 24,818.00 | £ 24,818.00 | £ 24,818.00 | 54 | £ 167,658.00 | £ 1,204.50 |
| Finance Officer | 0 | £ 21,088.00 | £ 22,964.00 | £ 24,110.00 | £ 24,440.00 | £ 24,774.00 | 54 | £ 166,752.72 | £ 921.50 |
| Graphic Design | 0 | £ 19,065.00 | £ 21,703.00 | £ 24,949.00 | £ 26,025.00 | £ 27,484.00 | 53 | £ 173,506.56 | £ 2,104.75 |
| Web Design and Development Professional | 0 | £ 18,225.00 | £ 21,846.00 | £ 26,541.00 | £ 29,781.00 | £ 31,429.00 | 52 | £ 195,471.36 | £ 3,301.00 |
| Recruitment Consultant | 0 | £ 19,744.00 | £ 21,971.00 | £ 25,737.00 | £ 28,651.00 | £ 32,500.00 | 52 | £ 196,886.16 | £ 3,189.00 |
| Psychologist | 8 | £ 27,918.00 | £ 29,728.00 | £ 46,893.00 | £ 50,347.00 | £ 58,000.00 | 51 | £ 201,273.24 | £ 7,520.50 |
| Architect | 7 | £ 27,089.00 | £ 30,653.00 | £ 35,176.00 | £ 43,987.00 | £ 50,437.00 | 51 | £ 196,311.66 | £ 5,837.00 |
| Property Manager | 0 | £ 20,478.00 | £ 22,800.00 | £ 25,989.00 | £ 29,753.00 | £ 34,669.00 | 51 | £ 198,004.32 | £ 3,547.75 |
| Physiotherapist | 3 | £ 24,170.00 | £ 26,474.00 | £ 31,402.00 | £ 35,007.00 | £ 37,400.00 | 51 | £ 198,502.80 | £ 3,307.50 |
| Midwife | 3 | £ 23,646.00 | £ 27,178.00 | £ 31,916.00 | £ 35,278.00 | £ 35,549.00 | 51 | £ 194,266.56 | £ 2,975.75 |
| Account Manager | 0 | £ 23,456.00 | £ 26,683.00 | £ 30,535.00 | £ 30,535.00 | £ 30,602.00 | 51 | £ 194,106.72 | £ 1,786.50 |
| Solicitor | 6 | £ 29,476.00 | £ 29,857.00 | £ 41,734.00 | £ 46,310.00 | £ 51,515.00 | 50 | £ 215,585.22 | £ 5,509.75 |
| Journalist | 0 | £ 20,192.00 | £ 22,114.00 | £ 31,102.00 | £ 33,705.00 | £ 38,545.00 | 50 | £ 218,402.40 | £ 4,588.25 |
| Veterinarian | 5 | £ 28,990.00 | £ 31,700.00 | £ 38,068.00 | £ 40,711.00 | £ 46,772.00 | 50 | £ 220,781.28 | £ 4,445.50 |
| Public Relations Professional | 0 | £ 20,077.00 | £ 22,227.00 | £ 35,407.00 | £ 37,190.00 | £ 37,190.00 | 50 | £ 222,538.80 | £ 4,278.25 |
| Content Writer | 0 | £ 19,656.00 | £ 22,427.00 | £ 33,927.00 | £ 36,172.00 | £ 36,172.00 | 50 | £ 216,919.44 | £ 4,129.00 |
| Gardener and Landscaper | 0 | £ 23,306.00 | £ 25,458.00 | £ 29,829.00 | £ 35,625.00 | £ 38,849.00 | 50 | £ 223,958.88 | £ 3,885.75 |
| Editor | 0 | £ 23,855.00 | £ 25,618.00 | £ 31,072.00 | £ 35,730.00 | £ 36,832.00 | 50 | £ 217,917.84 | £ 3,244.25 |
| Data Analyst | 0 | £ 24,512.00 | £ 26,985.00 | £ 31,441.00 | £ 34,099.00 | £ 37,109.00 | 50 | £ 214,867.68 | £ 3,149.25 |
| Teacher | 0 | £ 23,075.00 | £ 24,663.00 | £ 32,373.00 | £ 35,027.00 | £ 35,027.00 | 50 | £ 210,599.04 | £ 2,988.00 |
| Social Worker | 0 | £ 27,105.00 | £ 29,454.00 | £ 32,123.00 | £ 34,450.00 | £ 34,450.00 | 50 | £ 215,873.52 | £ 1,836.25 |
| Doctor (GP) | 9 | £ 40,963.00 | £ 40,963.00 | £ 57,551.00 | £ 69,560.00 | £ 88,000.00 | 49 | £ 239,664.72 | £ 11,759.25 |
| Lawyer | 6 | £ 44,764.00 | £ 44,764.00 | £ 50,868.00 | £ 50,868.00 | £ 65,000.00 | 49 | £ 228,387.36 | £ 5,059.00 |
| Social Media | 0 | £ 19,260.00 | £ 20,595.00 | £ 32,759.00 | £ 39,305.00 | £ 39,305.00 | 49 | £ 224,030.40 | £ 5,011.25 |
| Civil Engineer | 3 | £ 25,129.00 | £ 29,573.00 | £ 38,146.00 | £ 42,275.00 | £ 44,582.00 | 49 | £ 231,817.20 | £ 4,863.25 |
| HR Manager | 0 | £ 22,898.00 | £ 29,041.00 | £ 36,521.00 | £ 39,320.00 | £ 40,664.00 | 49 | £ 237,495.36 | £ 4,441.50 |
| Buyer | 0 | £ 23,689.00 | £ 25,706.00 | £ 36,283.00 | £ 39,665.00 | £ 39,716.00 | 49 | £ 235,536.00 | £ 4,006.75 |
| Police Officer | 0 | £ 23,130.00 | £ 24,898.00 | £ 33,351.00 | £ 37,748.00 | £ 38,966.00 | 49 | £ 219,317.28 | £ 3,959.00 |
| Business Analyst | 0 | £ 27,794.00 | £ 30,912.00 | £ 36,233.00 | £ 36,233.00 | £ 36,233.00 | 49 | £ 217,256.16 | £ 2,109.75 |
| Electrician | 0 | £ 26,224.00 | £ 29,685.00 | £ 35,051.00 | £ 38,784.00 | £ 42,327.00 | 48 | £ 229,737.12 | £ 4,025.75 |
| Programmer Analyst  | 0 | £ 27,514.00 | £ 29,336.00 | £ 38,847.00 | £ 42,952.00 | £ 43,541.00 | 48 | £ 253,929.60 | £ 4,006.75 |
| Financial Analyst | 0 | £ 26,490.00 | £ 31,494.00 | £ 39,333.00 | £ 40,188.00 | £ 40,188.00 | 48 | £ 238,677.36 | £ 3,424.50 |
| Marketing | 0 | £ 18,561.00 | £ 19,126.00 | £ 36,098.00 | £ 39,177.00 | £ 72,460.00 | 47 | £ 246,952.80 | £ 13,474.75 |
| Project Manager | 0 | £ 28,399.00 | £ 33,958.00 | £ 41,855.00 | £ 49,743.00 | £ 50,918.00 | 47 | £ 255,126.00 | £ 5,629.75 |
| IT Manager | 0 | £ 30,468.00 | £ 33,528.00 | £ 38,682.00 | £ 42,199.00 | £ 45,905.00 | 47 | £ 246,516.96 | £ 3,859.25 |
| Commercial Manager | 0 | £ 29,965.00 | £ 38,686.00 | £ 45,935.00 | £ 55,674.00 | £ 61,190.00 | 46 | £ 263,164.20 | £ 7,806.25 |
| Taxation Expert | 0 | £ 19,575.00 | £ 25,640.00 | £ 48,512.00 | £ 48,512.00 | £ 48,512.00 | 46 | £ 260,250.48 | £ 7,234.25 |
| Construction Manager | 0 | £ 29,047.00 | £ 38,581.00 | £ 45,926.00 | £ 48,931.00 | £ 51,688.00 | 46 | £ 257,485.68 | £ 5,660.25 |
| Product Manager | 0 | £ 30,839.00 | £ 35,456.00 | £ 43,392.00 | £ 48,858.00 | £ 48,858.00 | 46 | £ 270,534.72 | £ 4,504.75 |
Our Most Popualr Guides