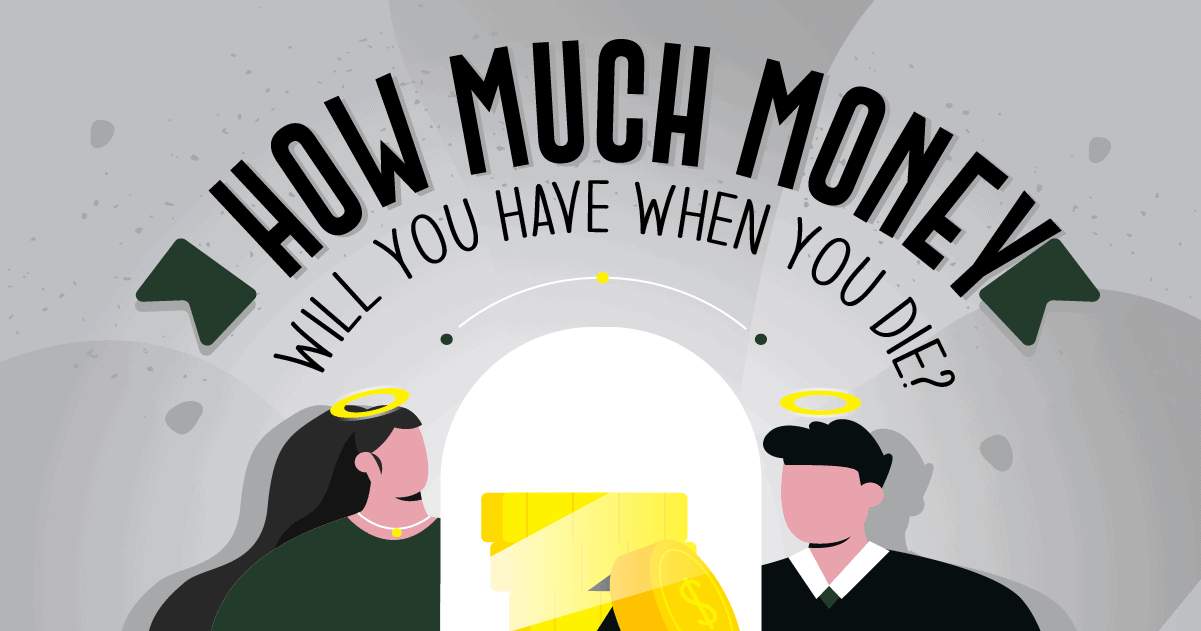 While it's not the most pleasant topic to consider, how much money you will leave behind is an important detail of a retirement plan alongside how much to save before retirement and how to budget once you are no longer working.
As once said by Benjamin Franklin "nothing is certain except death and taxes". No matter where you live in the world, there is one universal truth (no matter how hard we try to cheat it) and that is that death is inevitable.
From pension plans to investments, we all try our best to set up a life of ease after retirement. However, the prospect of outliving our money is a serious concern to the extent that some don't spend as freely as they can in retirement when they are able to enjoy it.
How much money you are left with prior to your death is largely affected by where you live. Knowing that we can't take our money to the grave, a new study by Our Life Plan takes an in-depth look into saving habits and the cost of living of different generations around the world to reveal which cities are dying with the most amount of money and which are dying in debt.
Switzerland, Bern has been revealed as the city dying with the most cash
Dying with £306,781 per person, the Swiss capital city has been revealed as the city dying with the most money. Home to the scenic Oeschinen Lake, Bern has an average age expectancy of 83 – which is the second-highest after Tokyo (84). From the ages of 18 to 65, residents living in Bern have the biggest disposable income against all other countries.
In second place is the city Luxembourg – built amid deep gorges this European city is leaving over £298,000 behind after they die. Living a full life, Luxembourgers have an average life expectancy of 82.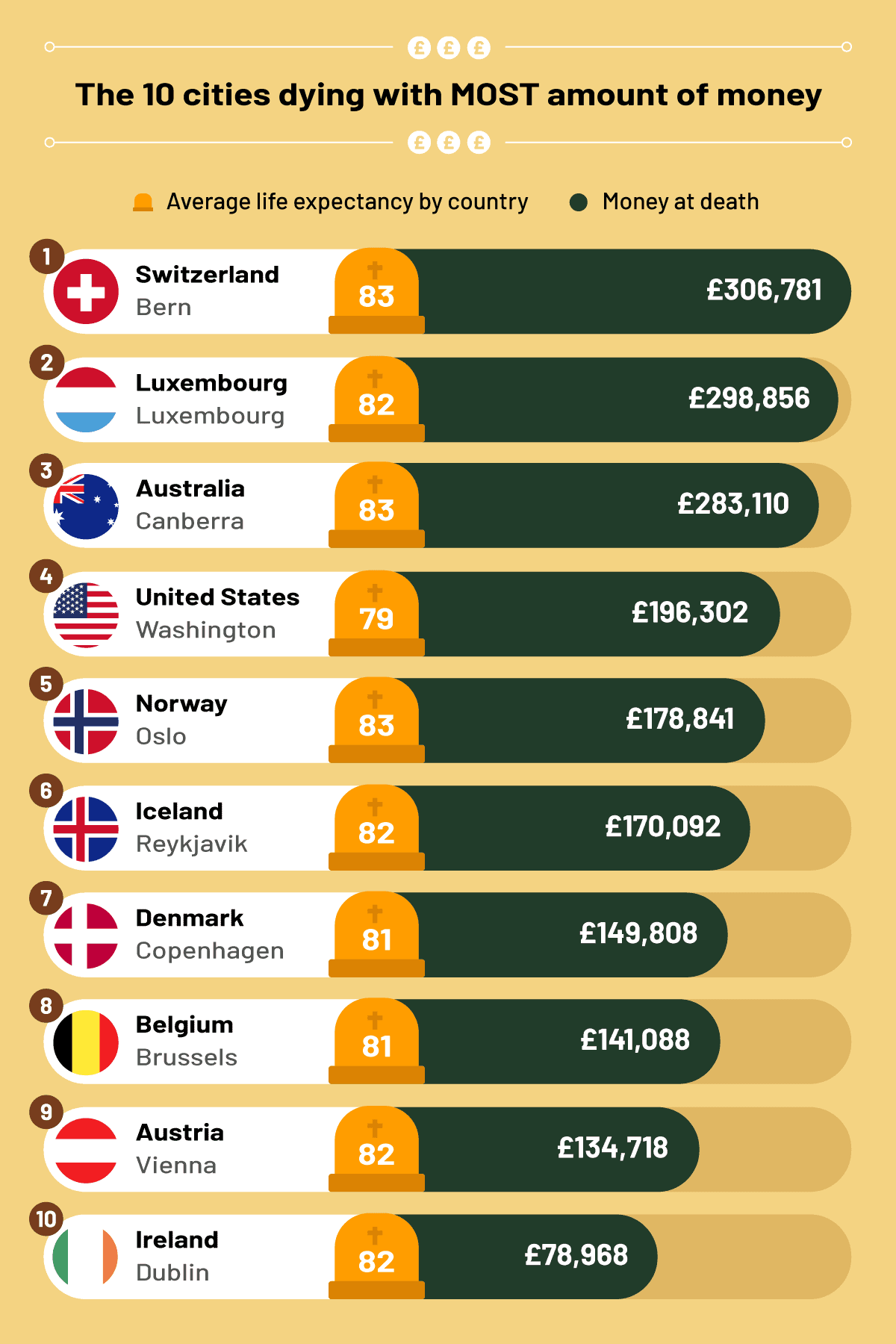 Seoul residents are dying with the most amount of debt
Living to the ripe old age of 83, habitants of Seoul are not leaving anything behind for loved ones to share – in fact, they are dying in debt! Looking at the data, we found that Seoul residents are nearly £500,000 in debt when they pass away.
But they aren't the only ones, nine other cities have topped the chart of dying with the most debt, these cities include Mexico, Budapest, Ankara and Paris.
Perhaps unsurprisingly, the UK's capital London has placed in eighth position. Leaving behind a debt of £243,445, Londoners have an average life expectancy of 83.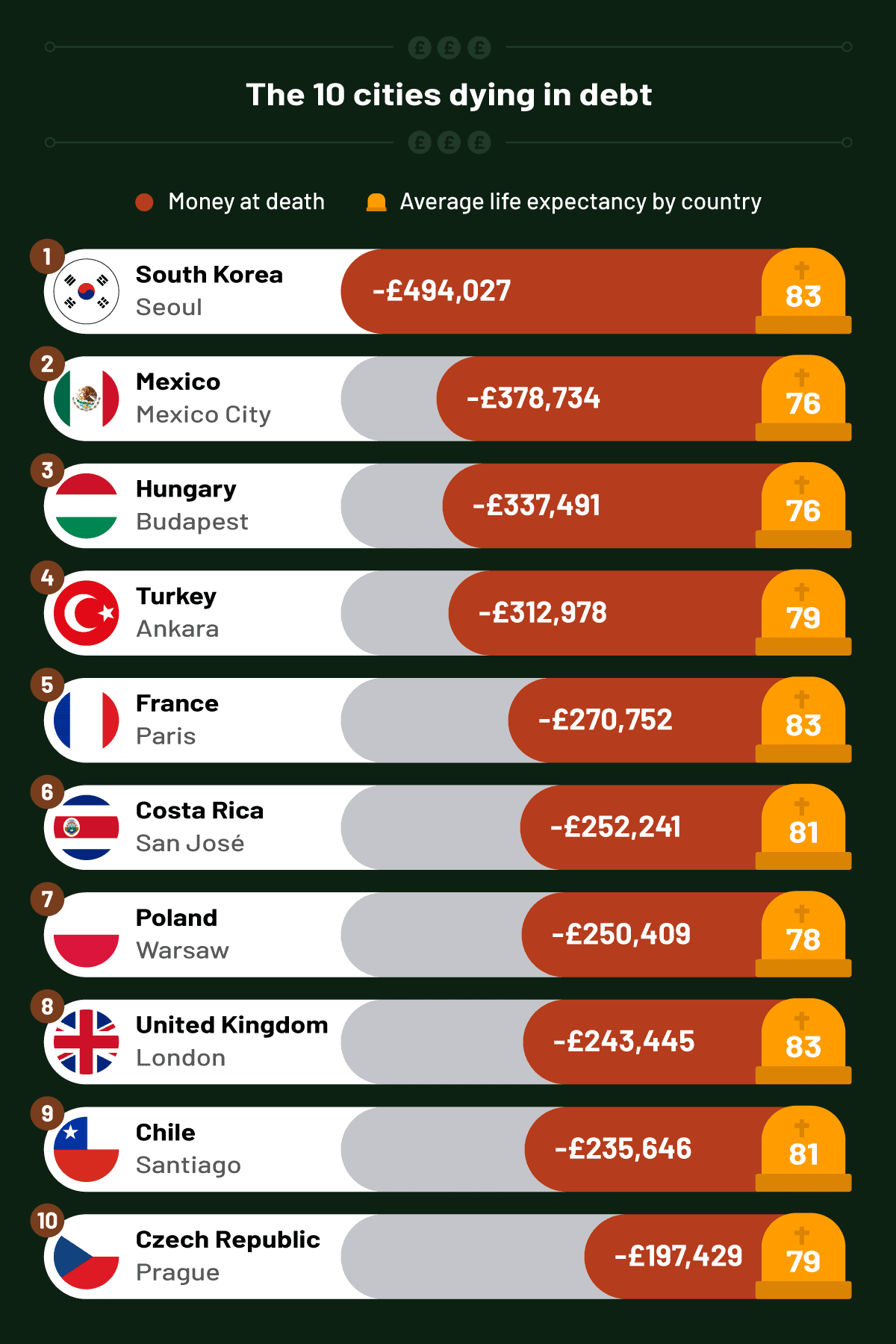 London comes out on top as the city with the highest cost of living
How much you are able to save is largely dependent on your outgoing expenses. If your expenses are high you are unlikely to save a lot of money, and vice versa. 
Home to the royals, Big Ben and the River Thames, London has taken the number one spot as the city with the most expensive lifestyle. Londoners are paying a whopping £2,269 per month to enjoy everything the capital has to offer.
Known for its monuments and buildings, Washington D.C. follows behind London, and then Dublin, Amsterdam and Reykjavík finish off the topmost expensive city to live in.
If you're looking for the least expensive cities to live in, then you should be looking at Ankara in Turkey – citizens in Ankara have a much lower monthly living cost than those in London. Paying only £503, which also includes the price of rent, Turks are paying £1,767 less for monthly expense than Londoners.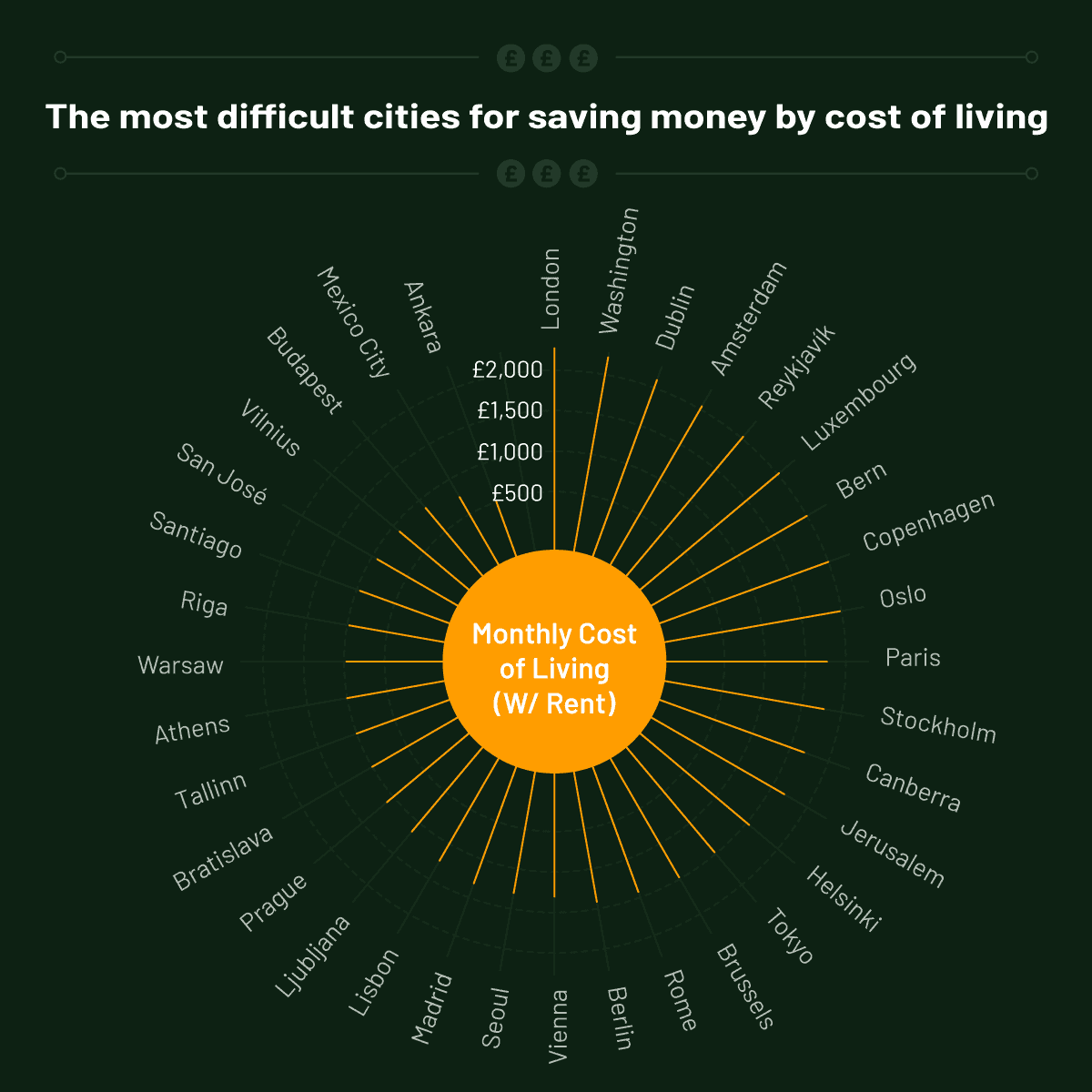 Bradford ranks as the UK city dying with the most 
Determined to find out how this looks closer to home, we have taken a look into the spending and saving habits of different cities around the UK to reveal where Brits are leaving the biggest sum of money when they pass away.
Bradford comes in at the top with an average life expectancy of 80, those living in this West Yorkshire city are expected to leave behind a huge £159,920. Following in second place is Sunderland, living a year shorter than those in Bradford (79), Mackem are abandoning £156,204 when they die.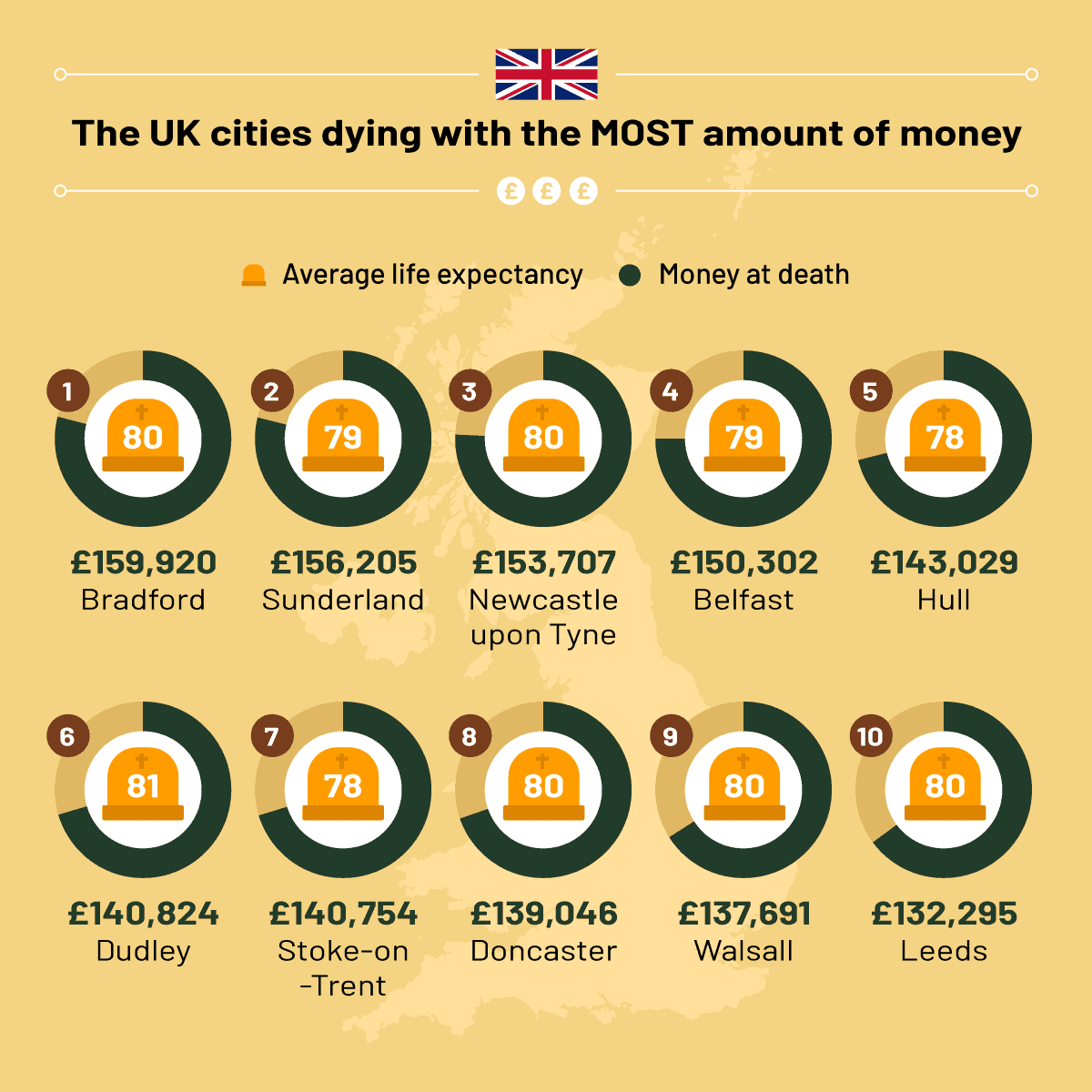 Londoners are the only UK residents dying in debt
Due to their high cost of living of (£2,270), Londoners are the only Brits dying in debt. Those leaving in London are expected to leave behind a whopping debt of £243,445 when they pass away at the age of 83.
With an average life expectancy of 81, Brighton and Hove residents are leaving behind the smallest amount of money (£33,436) with Brits in Wakefield rounding off the bottom three dying with £61,614 at the age of 80.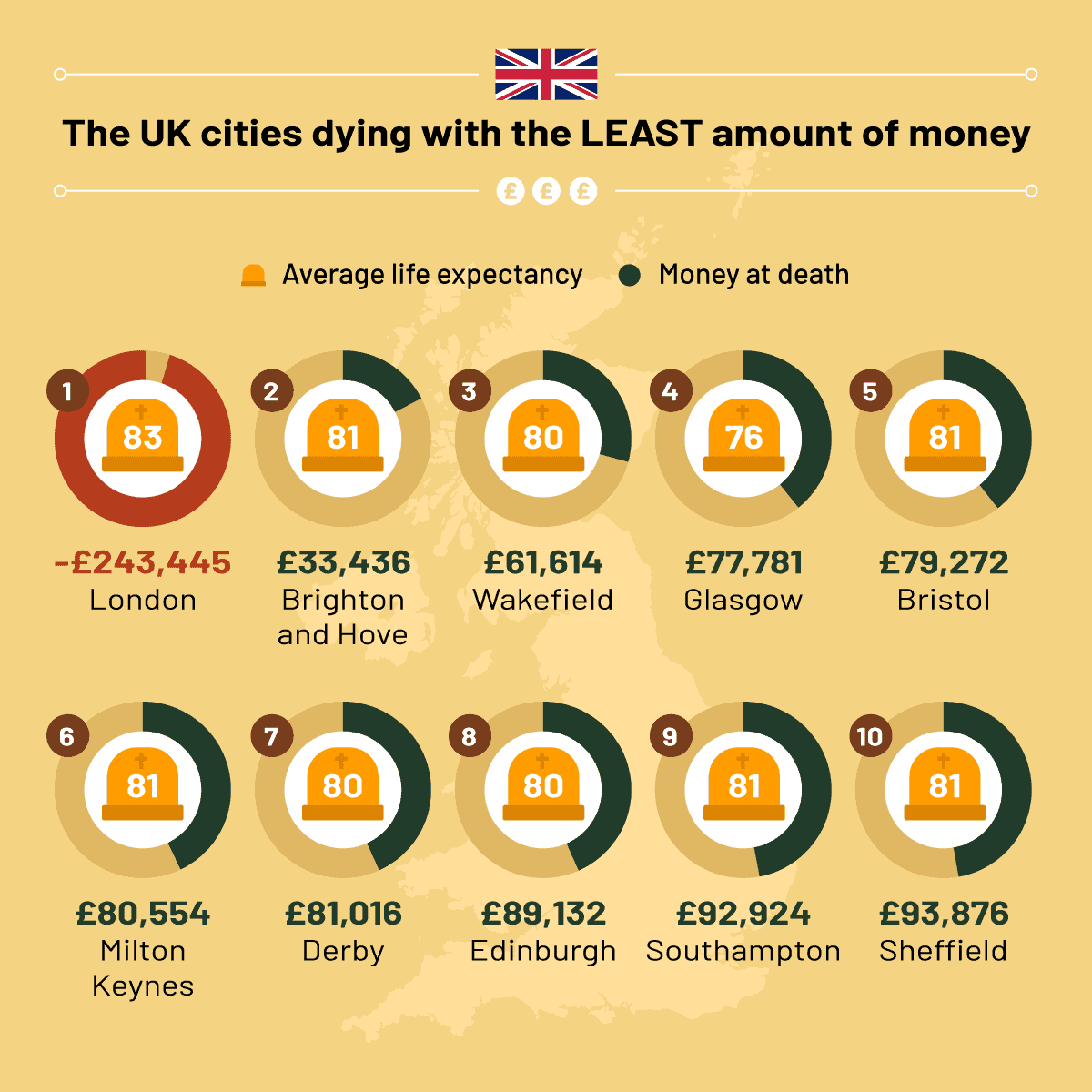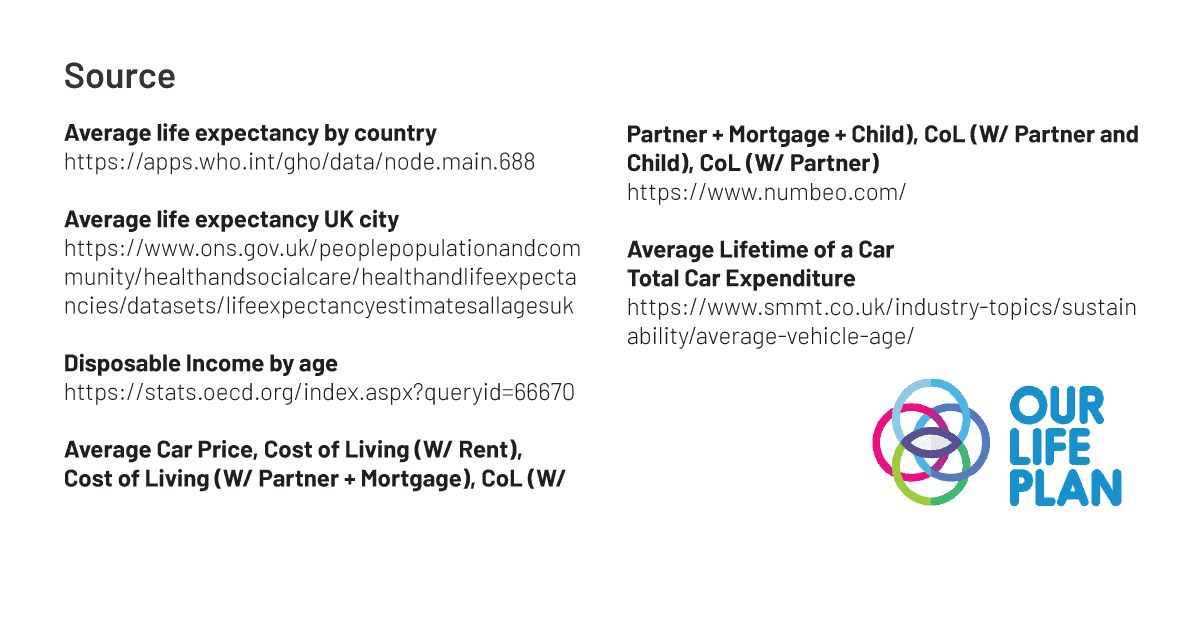 | Country | Capital City | Average life expectancy by country | Money at Death |
| --- | --- | --- | --- |
| Switzerland | Bern | 83.4 | £306,781.11 |
| Luxembourg | Luxembourg | 82.4 | £298,855.56 |
| Australia | Canberra | 83 | £283,110.04 |
| United States | Washington | 78.5 | £196,302.11 |
| Norway | Oslo | 82.6 | £178,841.33 |
| Iceland | Reykjavík | 82.3 | £170,092.17 |
| Denmark | Copenhagen | 81.3 | £149,807.53 |
| Belgium | Brussels | 81.4 | £141,087.56 |
| Austria | Vienna | 81.6 | £134,717.51 |
| Ireland | Dublin | 81.8 | £78,968.01 |
| Finland | Helsinki | 81.6 | £71,026.53 |
| Sweden | Stockholm | 82.4 | £69,051.34 |
| Germany | Berlin | 81.7 | £54,068.43 |
| Netherlands | Amsterdam | 81.8 | -£1,544.85 |
| Slovenia | Ljubljana | 81.3 | -£34,049.33 |
| Spain | Madrid | 83.2 | -£57,657.42 |
| Israel | Jerusalem | 82.6 | -£67,232.60 |
| Estonia | Tallinn | 78.9 | -£69,308.40 |
| Latvia | Riga | 75.4 | -£94,030.93 |
| Italy | Rome | 83 | -£97,631.46 |
| Lithuania | Vilnius | 76 | -£111,432.46 |
| Greece | Athens | 81.1 | -£155,967.27 |
| Portugal | Lisbon | 81.6 | -£183,253.53 |
| Slovakia | Bratislava | 78.2 | -£190,054.49 |
| Japan | Tokyo | 84.3 | -£190,540.42 |
| Czech Republic | Prague | 79.1 | -£197,428.68 |
| Chile | Santiago | 80.7 | -£235,645.80 |
| United Kingdom | London | 82.8 | -£243,445.26 |
| Poland | Warsaw | 78.3 | -£250,409.01 |
| Costa Rica | San José | 80.8 | -£252,241.28 |
| France | Paris | 82.5 | -£270,752.38 |
| Turkey | Ankara | 78.6 | -£312,978.18 |
| Hungary | Budapest | 76.4 | -£337,490.82 |
| Mexico | Mexico City | 76 | -£378,733.53 |
| South Korea | Seoul | 83.3 | -£494,026.83 |
Our Most Popualr Guides