The map below shows something that's about to become a lot more common over the coming decades. 9 countries in the world already have Millennial leaders (defined here as being born between 1980 and 1996), with Sanna Marin, PM of Finland, being the youngest.
This number will likely increase quite quickly over the next decade as older Millennials enter their 40s.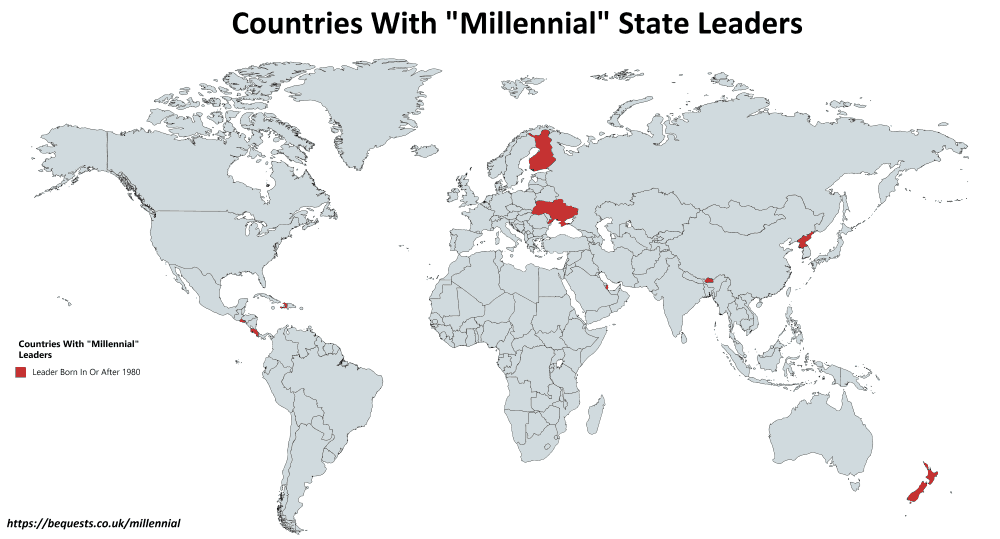 In terms of age (from youngest to oldest) they are:
Sanna Marin (Prime Minister of Finland). Born 16 November 1985
Oleksiy Honcharuk (Prime Minister of Ukraine). Born 7 July 1984
Kim Jong-un (Supreme Leader of North Korea). Born 8 January 1983
Nayib Bukele (President of El Salvador). Born 24 July 1981
Jacinda Ardern (Prime Minister of New Zealand). Born 26 July 1980
Fritz-William Michel (Prime Minister of Haiti). Born 23 July 1980
Tamim bin Hamad Al Thani (Emir of Qatar). Born 3 June 1980
Jigme Khesar Namgyel Wangchuck (King of Bhutan). 21 February 1980
Carlos Alvarado Quesada (President of Costa Rica). 14 January 1980
In the United States most Millennials are still too young too become president as only those born in 1985 or earlier would qualify since you must be at least 35 years-old to hold the office of President of the United States.
Data came from Wikipedia and map created using https://mapchart.net/.
Find this map interesting? Then please share with a friends and leave your comments below: