Below we look at the 5 "best" will writing, trust and probate solicitors in York.
For more on how we chose the best please consult our FAQ section at the end.
Please not the following listings are in no particular order and we are not making any recommendations for any particular solicitor. Nor are we making any other financial recommendations. 
Lockings Solicitors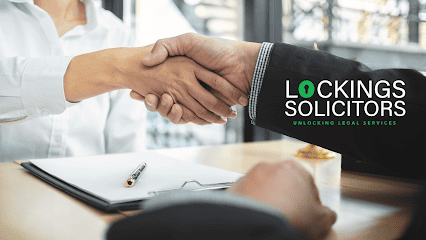 Description from the business: Lockings Solicitors is a law firm in York.
With offices in York, Beverley and Hull our lawyers have served the local community and beyond since 1949.
Our award winning team maintain the highest standards by following 6 rules:
1.
We're here to help with legal advice and support.
2.
We will carry out your wishes.
3.
We will always keep you in the loop.
4.
We will avoid complicated legal phrases and help you understand the legal process.
5.
We will keep our legal fees fair and transparent.
6.
We will give a Free Initial Chat Service.
We specialise in Compromise Agreements for Employees, Child Care Proceedings, Conveyancing, Dispute Resolution, Powers of Attorney, Probate and Wills.
Additional Services:
Conveyancer
Estate Planning Lawyer
Law firm
Lawyer
Address: Suite 2A, 18 Back Swinegate, Swinegate, West, York YO1 8AD
Review Score: 4.9
Number of Reviews: 33
Read Reviews
Switalskis Solicitors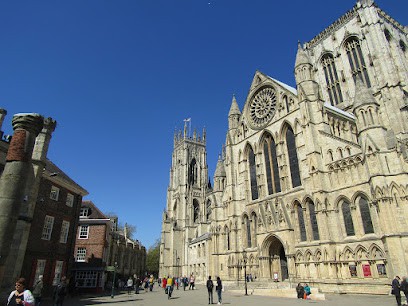 Description from the business: At Switalskis Solicitors we have brought together some of the region's most experienced legal experts, to provide high quality service across all our areas of legal expertise.
This includes: Adult Abuse claims, Brain Injury and Serious Injury Claims, Child Abuse Compensation, Child Care Law, Clinical & Medical Negligence, Court of Protection and Mental Capacity Law, Criminal Defence, Family Law, Inquest Law, Housing Law, Mental Health Law, Conveyancing, Therapy and Professional Abuse, and Wills, Trusts and Probate.
We are located on the quiet lane of Back Swinegate in York's city centre, near a number of restaurants and cafes.
Once there, you'll be greeted by our friendly 'full-service' legal team.
Additional Services:
Conveyancer
Criminal defence lawyer
Divorce lawyer
Divorce service
Family Lawyer
Law firm
Legal services
Property lawyer
Address: 18 Back Swinegate, York YO1 8AD
Review Score: 3.7
Number of Reviews: 35
Read Reviews
Ison Harrison Solicitors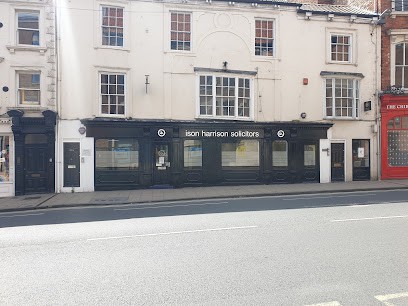 Description from the business: Ison Harrison solicitors provide a full range of legal services in York including conveyancing, commercial property, family law and wills and probate.
Established over 40 years and one of Yorkshire's largest law firms, contact us today for expert, professional advice.
Additional Services:
None
Address: 23 Micklegate, York YO1 6JH
Ison Harrison Solicitors website
Review Score: 4
Number of Reviews: 29
Read Reviews
AJC Law Solicitors Ltd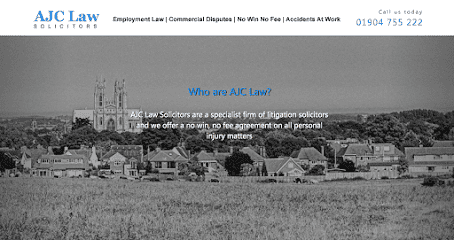 Description from the business: Commercial Disputes, Employment Law, Professional Negligence, Personal Injury Claims and Wills and Probate.
Additional Services:
Employment Lawyer
Estate Planning Lawyer
Family Lawyer
Legal services
Mediation service
Personal Injury Lawyer
Address: Unit 16, Woodhouse Grange Business Centre, York YO41 4DF
AJC Law Solicitors Ltd website
Review Score: 4.7
Number of Reviews: 14
Read Reviews
Crombie Wilkinson Solicitors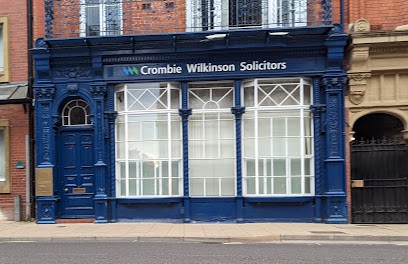 Description from the business: At our York solicitors office, we are well placed to provide you with the specialist legal advice you need.
Our experts can help you with matters relating to personal affairs including moving home, disputes, making a Will, Trusts & probate and family issues such as pre-nuptial agreements, separation and divorce, care proceedings and domestic violence.
The Business Law team are ready to help and advise businesses looking for support on commercial property leases, business terms and conditions, rents, employment law, debt recovery and offer advice across many sectors and business types – start-ups, entrepreneurs, mergers, succession planning.
Additional Services:
Conveyancer
Divorce lawyer
Lawyer for the Elderly
Employment Lawyer
Family Lawyer
Mediation service
Address: 19 Clifford St, York YO1 9RJ
Crombie Wilkinson Solicitors website
Review Score: 3.8
Number of Reviews: 25
Read Reviews
How Did You Pick The Best Will Trust & Probate Solicitors in York?
We started with a dataset of 14 listed York solicitors and will writing services we could find via Google Maps.
From there, we removed any listing that did not meet the following criteria.
Had no website
Had no reviews
Had an average review score below 4.0
At this point if we had 17 or fewer listings we listed all of them.
For cities where we were left with more than 17 solicitors we made further revisions by either increasing the required review score (e.g. going from a minimum of 4.0 to 4.9) and/or increasing the minimum number of required reviews (e.g. going from at least 1 review to at least 10).
In our view a solicitor which has 100 5* star reviews is likely more accurate than one which only has a single 5* review.
Note we only used review data from Google Maps and not any other third-party websites.
How much is will writing in York?
It really depends on what you need.
For the simplest wills you can take advantage of free charity will writing services or use an online service which with prices starting around just £30.
More complex wills, trusts and probate issues will cost significantly more. You can use the from below to get a free quote.
Solicitors In Other Cities
Middlesbrough Will Writing
Belfast Will Writing
Macclesfield Will Writing
Oakham Will Writing
Tamworth Will Writing