Decreasing life insurance is a unique type of life insurance policy designed to align with specific financial obligations that reduce over time, such as that of mortgage payments. It offers tailored protection and affordability by decreasing the coverage amount as the years pass, ensuring that your loved ones have adequate financial security if and when they need it the most.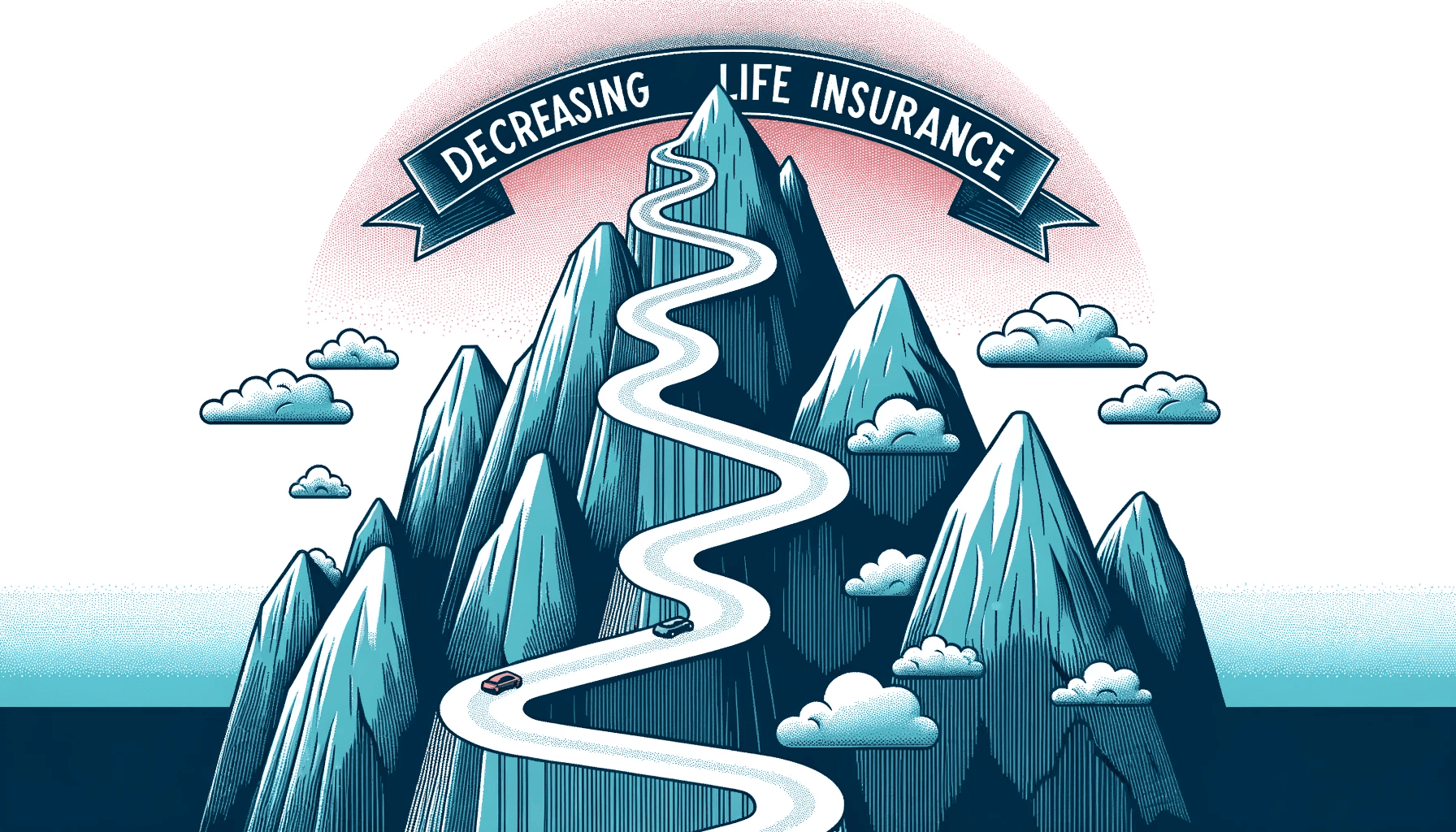 In this article, we'll be looking into:
Who may benefit from decreasing life insurance policies

The advantages and disadvantages of this insurance type

How to know if decreasing life insurance is right for you
If you don't know much about decreasing life insurance and want to know more, keep reading to get fully informed on this life insurance type.
Defining Decreasing Life Insurance
Unlike other life insurance policies, which typically maintain a constant coverage amount, decreasing life insurance follows a decreasing pattern. The primary purpose of decreasing life insurance is to align with specific financial obligations or liabilities that also decrease over time. 
For instance, it's most commonly used to cover mortgage or loan repayments. As the policyholder pays off their mortgage or loan, the outstanding balance decreases, and decreasing life insurance ensures that the coverage amount matches this decreasing debt value. 
This way, decreasing life insurance can offer a cost-effective way to protect against specific, time-restricted financial responsibilities. This factor makes the policy time suitable for some individuals, while it is wholly unsuitable for others who perhaps want to create a legacy or consider estate planning, as this typically won't fall into the realm of decreasing life insurance. 
Key Features of Decreasing Life Insurance
Decreasing life insurance is characterised by two primary elements:
Decreasing coverage – unlike traditional life insurance policies, the coverage amount in decreasing life insurance decreases over time. It follows a predefined schedule, aligning with specific financial obligations that also decrease, such as mortgage or loan balances that aim to be paid off in a certain time period
Fixed premiums – while the coverage amount decreases, the premiums remain fixed throughout the policy's term. This predictability in premium payments allows policyholders to budget and plan accordingly for the regular monthly payments
In some ways, decreasing life insurance is most similar to fixed-term life insurance, as they both cover the individual for a set period of time. It is most dissimilar to whole life insurance, where the policyholder is covered for the entirety of their life, without restriction, guaranteeing a payout at any stage if the policyholder was to pass away.
Coverage Amount Reduction in Decreasing Life Insurance
Decreasing life insurance serves as an effective tool for covering debts or obligations that decrease over time. For example, if you have a mortgage, the outstanding balance decreases as you make monthly payments, making it a suitable debt to reconcile with decreasing life insurance, instead of having whole life insurance in place to cover the same payments. 
This ensures that the coverage amount matches the outstanding mortgage balance, so your loved ones won't face financial burdens if you pass away during the policy term. This alignment with specific financial needs makes decreasing life insurance a practical choice for those looking to protect against time-limited liabilities in a cost-effective manner.
Premium Structure in Decreasing Life Insurance
In decreasing life insurance, the premium structure remains consistent throughout the policy's term. This means that the premiums you pay at the beginning of the policy will be the same as the ones you pay towards the end – the advantage of this predictability is that it allows policyholders to plan their budgets effectively, knowing that their premiums won't increase over time, or be influenced by market trends.
The calculation of premiums for decreasing life insurance is influenced by several key factors:
Coverage amount – the initial coverage amount, or the face value of the policy, impacts the premium. Typically, higher coverage amounts will result in higher premiums
Policy term – the length of the policy term also plays a role. Longer terms may have slightly higher premiums
Age and health – the age and health of the policyholder are significant determinants of premium costs. Younger, healthier individuals generally pay lower premiums, whereas older and less fit individuals may receive higher premiums
Smoking and lifestyle – policyholders who smoke or engage in high-risk activities such as some extreme sports or those in high-risk jobs may face higher premiums due to their increased mortality risk
Gender – in some regions, gender can impact premium calculation, as women tend to have longer life expectancies
Understanding these factors is crucial when considering decreasing life insurance, as they help in determining the cost of coverage. The consistent premium structure, combined with careful consideration of these factors, allows individuals to secure cost-effective coverage that aligns with their specific financial needs.
Beneficiaries and Payouts in Decreasing Life Insurance
If the policyholder passes away during the policy's term, the designated beneficiaries receive the death benefit. The payout is typically made as a lump sum, providing financial support to the beneficiaries.
The insurance type serves specific financial needs, and the policy payout is often used for the following purposes:
Mortgage or loan repayment – one of the most common uses is to cover the outstanding balance of a mortgage or a loan. As the coverage decreases over time, it aligns with the decreasing loan amount, ensuring that the beneficiaries can clear the debt without financial strain
Family protection – the death benefit can be used to support the policyholder's family, ensuring they have the financial means to maintain their standard of living and meet daily expenses
Education funds – parents often use the payout to create or contribute to education funds for their children, guaranteeing their educational needs are met
Funeral expenses – the death benefit can help cover the cost of funeral and end-of-life expenses, relieving the financial burden on the family
Income replacement – if the policyholder was the primary income provider for the family, the payout can replace lost income, securing the family's financial stability
Decreasing life insurance is tailored to specific financial obligations, and the policy payout is designed to meet these needs, providing essential support to the beneficiaries during a challenging time.
Advantages and Disadvantages of Decreasing Life Insurance
Decreasing life insurance is particularly well-suited for scenarios where financial obligations decrease over time, such as mortgages or loans. It ensures that the coverage amount aligns with the outstanding debt, providing the necessary protection without overburdening the policyholder with unnecessary coverage. 
It is also known for its cost-effectiveness, owing to the fixed premiums, combined with the decreasing coverage amount, which makes it an affordable option for individuals looking to secure essential financial protection without breaking the bank. 
A main limitation of decreasing life insurance is the decreasing coverage amount. While it aligns with certain financial obligations, it may not be suitable for those with increasing or long-term protection needs, such as those wanting to leave a legacy or those who want estate planning in place.
In scenarios where the need for coverage remains constant or even grows, other insurance types, such as term life or whole life insurance, might be more appropriate. It's essential for individuals to assess their unique financial situation and obligations to determine if decreasing life insurance is the right fit for their needs, and that they speak to a financial advisor if they are at all confused about what's right for them specifically.
Who Should Consider Decreasing Life Insurance
The target audience for decreasing life insurance includes individuals with specific financial obligations that decrease over time. This often comprises homeowners with mortgage payments, or individuals with loans that have scheduled repayment periods, such as university or further education fees, or car repayments.
It's an ideal choice for individuals who want to ensure that their coverage matches the outstanding debt, providing cost-effective protection in situations where the need for financial security diminishes as the financial obligation is paid off. In these short-term scenarios, it is not necessary to have comprehensive life insurance coverage such as whole life insurance, which makes decreasing life insurance a cost-effective and suitable coverage type.
Who Might Not Suit Decreasing Life Insurance
This insurance type may not be suitable for individuals with specific characteristics or financial circumstances, including those with:
Growing financial obligations – if your financial obligations are increasing over time, such as taking on additional loans or debts, decreasing life insurance may not provide adequate coverage. In this case, level-term life insurance or whole life insurance might be more appropriate
Long-term protection needs – if you require lifelong protection or coverage that extends beyond a specific financial obligation, decreasing life insurance isn't the right choice. Whole life insurance, for example, offers permanent coverage
Complex financial situations – individuals with complex financial portfolios, including various investments or multiple sources of income, may require more comprehensive coverage. In such cases, a tailored financial plan, possibly involving multiple types of insurance, might be necessary
Higher financial goals – if you have substantial long-term financial goals, such as significant wealth accumulation, estate planning, or legacy building, other insurance options may be better suited to address these objectives
Health concerns – decreasing life insurance typically involves a medical underwriting process. If you have significant health concerns that could lead to high premiums or coverage denials, it may be worth exploring alternative insurance options or improving your health before applying
Short-term financial needs – if you have short-term financial obligations that are not covered by a decreasing pattern, you might find term life insurance more appropriate for covering these needs
Ultimately, the suitability of decreasing life insurance depends on an individual's specific financial situation, goals, and obligations. It's essential to evaluate your circumstances carefully and consider alternative insurance options to ensure you select the most suitable coverage.
Final Notes
Decreasing life insurance's value lies in its ability to offer tailored and cost-effective financial protection. It aligns with specific financial obligations that decrease over time, ensuring that policyholders aren't paying for unnecessary coverage. 
This tailored approach makes it a practical choice for those looking to secure essential protection without overburdening their budgets. If you are still in doubt as to whether or not decreasing life insurance is the right choice for you, speak to a financial advisor who will be able to assist you with your decision, and find the best life insurance policy for your individual circumstances.